Local 3343 at Florida A&M University held a protest Tuesday, Febuary 1 to call for management to bargain a fair contract for underpaid workers. See a brief overview of some of the resulting press coverage of the event. Remember, when we fight, we win! 
FAMU union workers protest for livable wages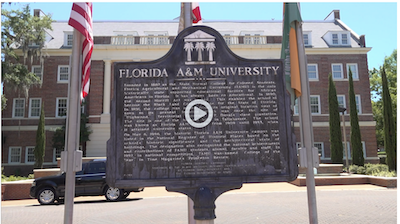 By Jaclyn Harold
TALLAHASSEE, Fla. (WCTV) - Union workers at Florida A&M University protested Tuesday morning to ask the university for livable wages.
Union officials say there have been a number of negotiations; however, the university still has not met their demands to pay employees, including groundskeepers and custodians, fairly.
In 2021, more than 100 union workers made $10 an hour according to Campus Union President Andre Crumity. In May 2021, only 74 workers received a pay increase, reaching a wage of $12.50 an hour.
Crumity says that pay is not fair and it's not enough.
More (from WCTV) >>
Florida A&M Workers Go Public With Demands for Higher Wages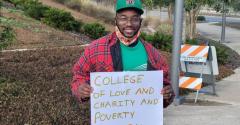 Andre Crumity, the AFSCME Local 3343 president, calls the protest "symbolic" as the union selected Feb. 1 — the first day of Black History Month — to make their cause known beyond the confines of Florida's only public historically Black university.
"If Black lives matter, then why do we not matter on FAMU's campus," said Crumity, who has worked as a senior fiscal assistant at FAMU for 15 years.
More (Tallahassee Democrat) >>
FAMU-AFSCME Members Demand A Decent Contract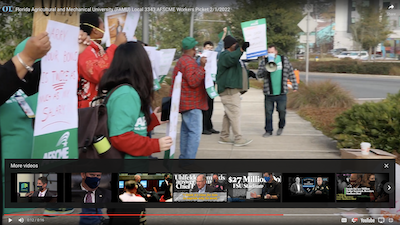 Watch (0:17) >>
Local 3343 President Andre Crumity believes the university could do better. "We have to bring awareness to what is happening on our campus. For far too long we have not been recognized – only through lip service, but never through action. We have to demonstrate why we believe that this administration has not been fair to its employees. We want results."
More (from Our Tallahassee) >>
FAMU employees stage demonstration
By Alea Mexile | Staff writer, FAMUAN
Some FAMU employees said they felt like they are "being swept under the rug," according to Affiliate of AFSCME and Campus Unions President Andre Crumity.  Crumity explained that the demonstration was to not only bring awareness to key stakeholders at FAMU, but to the community in Tallahassee as well.
"A lot of folks don't know the things that we have to do on this campus and tolerate on this campus," Crumity said. "When we get to the bargaining table when it comes to wages there is always a problem so we're trying to bring awareness to this with this demonstration here."
AFSCME is Florida's fastest growing union and it advocates for opportunities and fairness for all working families in Florida, according to its website.
More >>