School foodservice is among the many responsibilities of the Department of Agriculture and Commissioner Nikki Fried. AFSCME Florida President Vicki Hall, AFSCME Local 2941 President Elton Brown and Vice President Annette Taylor joined Commissioner Fried as she visited Englewood High School in Jacksonville on Wednesday, November 10, to thank foodservice workers for their efforts and hear their concerns. 
"We appreciate that Commissioner Fried shows the leadership to reach out to workers who are making sure our children have the nutrition and the safe, secure environment they need," said President Hall. 
A candidate in next year's gubernatorial election, Commissioner Fried said she was glad to visit the school because of the incredible work done with students. "I want to thank you for your service and all that you do," she said to the members.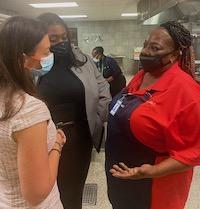 This can be a challenging work environment because "our students are going through a lot and need supportive adults," according to Annette Taylor, who works at the school and serves as Vice President of Local 2941. 
"The difficulties make it extremely important that this type of dialogue is ongoing so that issues can be addressed," said to AFSCME Local 2941 President Elton Brown. 
Ongoing meetings with elected officials are part of AFSCME's PEOPLE program, said AFSCME Local 1279 President Arthur Finley, who serves as chair of AFSCME PEOPLE Florida. "It is important that our members' work is celebrated and the challenges we face are recognized so that our voices are heard when decisions are being made," said Finley. 
Following the meeting, Commissioner Fried and President Hall, along with the Jacksonville-area leadership in attendance, participated in a press conference to discuss the bipartisan Infrastructure Investment and Jobs Act and its impact on Florida.
"It is clear, this is a big deal for Florida, the state as a whole, and our entire nation," Commissioner Fried said. "Creating jobs and economic growth while building a safer more sustainable future." 
"On behalf of more than 100,000 public workers represented by AFSCME Florida, and their families who will benefit from this progressive legislation, we will continue to advocate for the remainder of the President's Build Back Better agenda," said President Hall. "AFSCME members across the country are united in advocating for the equally historic Build Back Better Act as soon as possible which includes many progressive family-friendly policies that promote human growth and development just like the Infrastructure Investment Act supports our state's residents."