With a new agreement for the next three years ratified to begin in October, AFSCME members in the City of South Miami, Local 3294, are posed to weather economic uncertainty and make progress. With concerns about increasing costs mounting, President Randy Brown and his team were able to forge an agreement to double potential salary increases based on the consumer price index (CPI) from a 3% maximum up to 6%.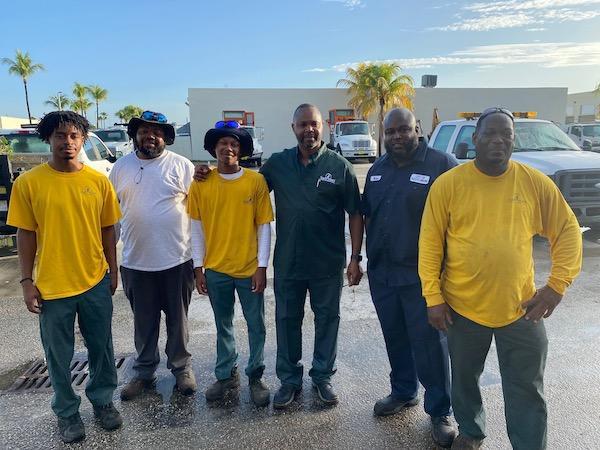 AFSCME Local 3294 members voted to ratify a new contract on June 9. President Randy Brown third from left.  
The CPIis a measure of the average change in consumer prices for goods and services, according to the Bureau of Labor Statistics. The CPI increased 9.1 percent for the 12 months ending June 2022 as gas, housing and food costs grew significantly.
Brown said he has focused over the years on building relationships with elected leaders and city administration so he can articulate members' concerns and engage in mutual problem-solving when issues arise.
Members of the 30-person bargaining unit will also be eligible for an annual 2.5% merit increase base on a satisfactory review.
The agreement offers members additional opportunities to cash in accumulated sick leave and allocates a 5% increase in pay for eight hours for members who temporarily assume the duties of a higher pay status classification, regardless of how many actual hours worked.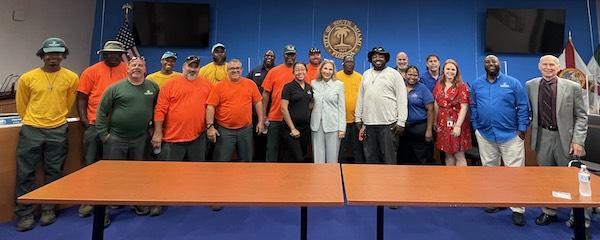 President Randy Brown (center, 'Canes hat) with Local 3294 members and City Administrator Shari Kamali (center, light suit), at City Hall July 13 after agreement final approval.
Members overwhelmingly voted to ratify the agreement on June 9, while the City Commissioners approved the deal July 13.