With several hundred new custodians to Miami-Dade County Public Schools participating in training on everything from safety to how to manage their benefits, AFSCME Local 1184 members, along with AFSCME Florida staff, made sure the workers were welcomed and urged to join their union on Friday, October 15. Local 1184 President Phyllis LeFlore told the new employees that the first thing she did 36 years ago when starting to work for the district was to become an active member. At least 16 followed LeFlore's lead that day and joined the union.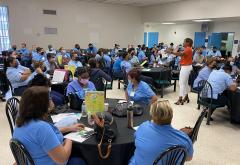 The three-day Custodian Induction Academy provided an opportunity for LeFlore, along with local and Council staff, to meet potential members, talk about the advantages of a strong union, and sign up new members.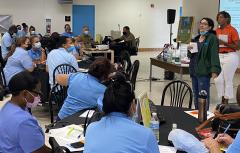 With the assistance of staff translating into Spanish and Creole, members inquired about the various insurance offerings, free college, and other benefit programs as well as specifics of day-to-day survival in schools. LeFlore emphasized that a union contract means no discrimination against members or dismissals without just cause. She discussed the work of the union in ensuring due process in the event of problems in a school and making sure members are treated fairly.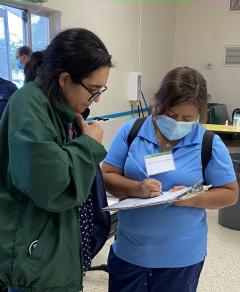 For local officers attending the event, this is one of many, as next week brings meeting bus drivers to talk about their challenges at a transportation location and subsequent weeks bring more shop visits.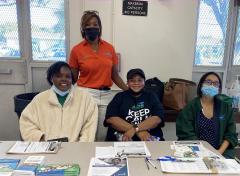 Continuous organizing served as the model of the day for AFSCME Local 1184, as members strive to build a strong local for fair treatment, safe working conditions, good pay and benefits