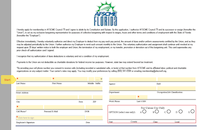 Join your colleagues in promoting fairness, equity and justice in your workplace by becoming a member of your union today using the secure online membership signup. 
If your local membership card is not available above, call the Regional Office to join. 
As a member of AFSCME Florida, you have the right to...
Due process and a fair grievance hearing when charges are made against you by your employer.
Have a copy of your contract so you can know what is in it.
Participate in the negotiation and ratification of your contract.
Member Benefits
As an AFSCME member, you know you always have an advantage at the bargaining table. But did you also know your AFSCME membership can provide you with a big advantage when you shop?
Through the AFSCME Advantage Program, you can secure big discounts on everything from travel to cell phone service.