With a $3,500 bonus for this year, AFSCME Local 3346 members at Florida International University held on-campus ratifications Monday, June 13, to meet with members, conduct a ratification vote and reach potential members in the bargaining unit.  
The local's members work with students in enrollment, clerical, security and custodial roles at the 55,000-student university.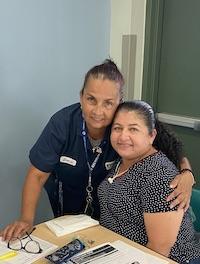 President Ana Mejia (seated)
Local President Ana Mejia met with members in a staff lounge on the main campus and Treasurer Georgia Bazos set up a table on the Biscayne Bay Campus to discuss the agreement and encourage voting. According to Bazos, some members wanted to see an increase to base pay, but the cash infusion will be welcomed and new negotiations for financials and a full three-year contract.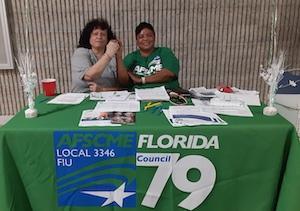 VP Georgia Bazos (left) with Staff Rep Patricia Pierre (right)
A total of 30 new members joined the union Tuesday and the local is working to increase coordination and communication throughout the bargaining unit with improved contact lists and regular outreach.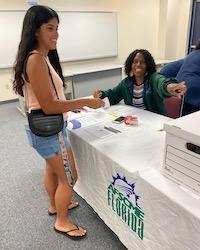 Polling location in Center for Labor Research and Studies
AFSCME Florida's Higher Education sector has been advocating in Tallahassee for fair treatment for workers at the state's college and universities. While state workers are receiving a significant raise in this year's budget, higher education workers are not included and bargain with their respective school administrators. 
Join local 3346 using our secure online signup.