Do you know which AFSCME Florida contract covers so many workers it requires a week-long ratification at 60 sites across the state to give its more than 41,000 bargaining unit members an opportunity to participate? If you guessed AFSCME's State Employee agreement, that would be correct. 
After advocacy and activism led to an across-the-board 5.38% raise, an expedited increase in starting pay to $15, with no increase in health insurance costs, AFSCME state workers in the Human Services, Professional, Operational Services, Administrative and Clerical Bargaining Units overwhelmingly ratified a new agreement at informational sessions across the state held June 27 through July 1. 
That week, nearly 100 new members joined the union, which is organized into 12 locals covering multiple counties each, as staff and local leaders set up tables in break rooms, hallways and conference rooms in each of AFSCME Florida's three geographic regions. 
Some were encouraged to join the union by co-workers, like Estrella Rodriguez, an Economic Self-Sufficiency worker, at the Department of Children and Families. Stationed at a busy Opa-Locka office, Rodriquez reviews applications for social assistance programs for families in need of assistance.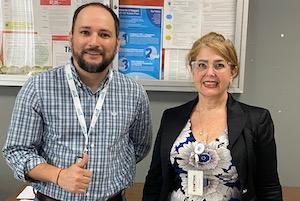 Estrella Rodriguez (right) and Organizer Christian Ortiz
The day of the ratification in her building, new immigrants from Ukraine were completing applications and staff members were using translation tools to give them instructions. "I understand what they are going through, so I can relate and emphasize" said Rodriquez. A native of Cuba, Rodriguez and her children spent time in Spain, but moved to Florida at a time of great upheaval and uncertainty, arriving with her two-year-old daughter and teenage son just two days after the September 11 attacks in 2001. 
Rodriquez made a home in Florida and is committed to her work assisting families, many of whom need Spanish-language translations, despite the internal challenges of understaffing. "Everybody here wants to help," said Rodriquez. 
An an adjoining office in Opa-Locka, Davette Brown Duff investigates accusations of child abuse and neglect. Inspired by a cousin who lost her mom at a young age and whose father had suffered a serious injury, Brown Duff attended Savannah State University in Georgia to study social work before returning to work for the state in Gainesville, then in her native Miami as a Child Protective Investigator.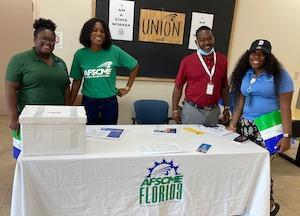 (From left): Vanessa Lovelace, Staff Reps Natasha Grant and Carlos Cross, Davette Brown Dunn
One of Brown Duff's co-workers is an active union member who encourage her to join. 
In her three years on the job, Brown Duff said she finds it gratifying to "help people in their darkest times," and often provides assistance to parents to resolve problems in the home. She encourages her co-workers around the state to "put your best foot forward" in helping people, but also "don't forget about the importance of self-care" to deal with the stress and tension of intermediating in highly-charged family crisis situations. For her, that translates to morning gym workouts and yoga, but also taking her contractual paid leave time as needed to recuperate and recover from the heavy demands of the job.
Juvenile Justice Officers received additional raises in the contract and officer Amos Timothee hopes the raises will help stave off the rapid job turnover he has seen as experienced co-workers leave for more rewarding careers. Timothee earned a criminal justice degree from Florida International University and sees his role as being a mentor and parental figure to the teenage through young adults assigned to his caseload.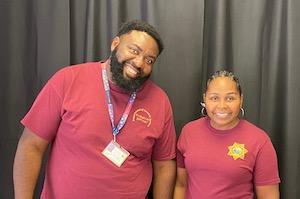 (from Left): Amos Timothee and Dept of Juvenile Justice co-worker Brandy Dames
Timothee was pleasantly surprised when the staff of one of the rehabilitation programs a client attends invited him to an after-work recognition ceremony, based on how well the young man speaks of him. Unfortunately, he could not attend, because he works a second job to support himself and his wife, but Timothee was extremely gratified that the young man (a 16-year-old who faced firearms charges) conveyed his appreciation for helping him control his emotions and respond appropriately to the framework of the program.
In terms of education and employment for the youth, "I see my role is to help these kids get back to being part of the larger society," said Timothee. An enthusiastic young worker, Timothee looks forward to being an active union member, inspired by the steward in his department.
AFSCME Florida Secretary Sheron Mickens is the President of her local of state workers in Daytona Beach, Port Saint Lucie and Titusville. Being active in her local union and seeing the impact on public workers across the state, Mickens participated in the ratification sessions in her area and encourages her follow state workers to join the union using secure online signup at www.afscmefl.org and get involved to advocate for regular raises, good benefits and secure retirement.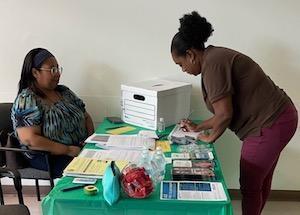 AFSCME Florida Secretary Sheron Mickens (left) welcomes members to ratification
"The union is as strong as our members make it by joining the union to support one another, our communities and our state," said Mickens. Anticipating another busy legislative session next year in Tallahassee and negotiating for raises in the next contract, Mickens stressed that it was activism which won significant salary increases now ratified in this year's contract and called on members to encourage their co-workers to join the union.