While it is challenging to settle on just 10 news items to characterize 365 days of member activism, collective action, union organizing, legislative advocacy and political involvement, we hope a quick look back at these stories will help give us perspective, strength and wisdom to build power in 2023. 
March 12: Big pay hikes for state workers in state budget, but what about university and college employees?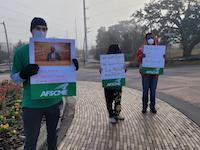 Andre Crumity, AFSCME local president, said that the union held a protest at FAMU in early February over university officials refusing to grant pay raises to its employees. Some workers who help maintain the campus are only making $10 an hour.
More >>
March 14: Member Activism Wins In Florida Legislative Session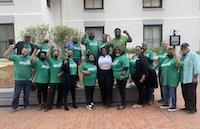 AFSCME fought off one of the most aggressive anti-union measures proposed in recent history. House Bill 1197, which would require every member to join every year, eliminate payroll deduction and set artificial thresholds to bargain for increased pay and benefits, passed the Florida House of Representatives.
More >>
July 5: FIU 3346 Local Ratifies Economic Agreement 
Local President Ana Mejia met with members in a staff lounge on the main campus and Treasurer Georgia Bazos set up a table on the Biscayne Bay Campus to discuss the agreement and encourage voting. According to Bazos, some members wanted to see an increase to base pay, but the cash infusion will be welcomed and new negotiations for financials and a full three-year contract. A total of 30 new members joined the union Tuesday and the local is working to increase coordination and communication throughout the bargaining unit with improved contact lists and regular outreach. 
More >>
August 3: Duval County custodian union claims lack of PPE, staffing impact cleanliness of your child's school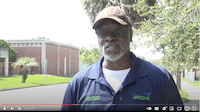 Brown says at the beginning of summer, HES facilities management laid off a good percentage of the workforce. He says currently there's not enough staff to do the job thoroughly and safely."You are putting an unnecessary strain on the remaining workers that's there. You are asking them and requiring that much more from them that's kind of difficult to do," said Brown. Brown says HES Facilities Management eliminated original hire dates of the employees impacting the custodians' vacation, leave accruals, and health insurance.
More >>
September 6: You Said It: UF ShandsCair Paramedics and Dispatchers Unionize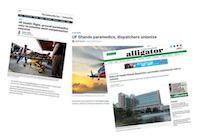 Flight paramedic Scott Coker, a 15-year veteran of the unit: "We land on highways when there is an automobile wreck, go get someone on an ECMO machine when COVID-19 has compromised their heart and lung function and even fly to Mexico or the Caribbean to rescue American citizens who have medical emergencies on their travels. Our Paramedics have immense knowledge bases and extensive professional development continuing education, but we are not being treated with the respect we deserve and the longer we work here, the greater our pay disparity grows. We have voted to form a union to bargain with the corporate office to recognize our skills and expertise with a fair contract and pay increases."
More >>
September 6: Labor Day message: United, we can improve Florida for all
It is within our power to create a Florida that works for everyone, not just the wealthy few. When we join in union, we will create a Florida where people in every corner of the state thrive, a Florida where all workers are treated with dignity, and a Florida we can all be proud to call home.
More >>
October 19: Town Hall About Controlling Medicine Costs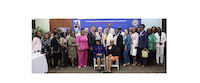 Controlling health care and prescription drug costs were on the agenda Tuesday, Oct. 18, when U.S. Labor Secretary Marty Walsh participated in a Town Hall with AFSCME Local 1184 President Phyllis Talley, sponsored by Congresswoman Frederica Wilson at the Jessie Trice Community Health System in Miami. 
More >>
October 26: Patient Care Dependent on Skilled Workers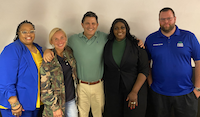 President Hall said, "The needs of residents continues to grow, but inadequate pay and stressful conditions have created an environment here familiar to what we see throughout the state workforce. The state has a problem recruiting and retaining skilled workers and needs to invest more in the people, especially in the competitive health care field, to meet the growing needs of our population."
More >>
October 27: AFSCME Florida's newest members work for the Town of Surfside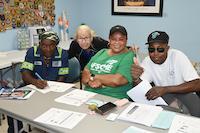 "Having our union will help to make sure that everyone gets treated fairly, make sure nobody is responsible for work that they shouldn't be doing in the first place. It is helping finally bring some fair compensation for the work we are doing," said Willie Perez, a parking enforcer and member of the bargaining team. "We felt we needed protection from some of the policies and personnel we had to deal with so we didn't have to fear for our jobs."
More >>
November 7: AFSCME members in the Miami area honored in Hometown Heroes Parade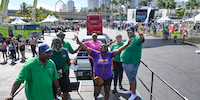 "The pandemic really stretched all of us personally and professionally, but through it all we knew this is when what we do matters the most. And the support from the community was there," said William Orange, a nutrition worker at Jackson Memorial Hospital in Miami and a leader at Local 1363 who rode in the Jackson Health/AFSCME Local 1363 parade float. "To have a parade like this really means a lot because it means that people remember what we did even now when, hopefully, the worst is behind us."
More >>